Services
The Oy Prima Partner Russia Ltd (PPR) offers consultation in SME Business.
- We help small and medium size companies, English,Finnish or Russian speaking companies, operating in different areas of industry to find efficient solution to their Business challenges.
- PPR has long-term expertise in ICT (IT- and telecommunication) and in operating in SME business.
In the significant role of technology area our consultants help of strategic business decisions.
There is need for consultants who understand technology and recognize profitable applications to products, services, and processes. Many companies have addressed this need through the appointment of a consultant whose responsibilities include monitoring new technologies and assessing their potential to become new products or services, overseeing the selection of research projects to insure that they have the potential to add value to the company, providing reliable technical assessments of potential mergers and acquisitions, explaining company products and future plans to the trade media, and participating in government, academic, and industry groups where there are opportunities to promote the company's reputation and to capture valuable data.
- Integrating these technology-based activities into the company strategy requires that the
consultant nurture effective relationships with key people throughout the company. These service portfolio include the PPRs partner companies chief scientists, research laboratory directors, and marketing managers.
---
EdapCO Oy
Jopi SaaS application

Edapco Oy, which develops web and mobile applications for professional and site use, has implemented the most efficient application service on the market for reporting fault logs and managing work. The application works on all devices with a browser anywhere and anytime, harmonizing the making and monitoring of fault logs and the utilization of artificial intelligence.
Digital tools integrated into the modern maintenance process are one of the key factors that often distinguish between outsourced maintenance and in-house maintenance.
The technology in the industry is evolving at a rapid pace, which poses challenges for the plant's own maintenance function to keep up with developments. The modern maintenance process has significant positive effects in both the short and long term.
Integrated digital tools streamline day-to-day operations by increasing cost and resource efficiency, reducing equipment failures and related repair costs, as well as environmental impact. In addition, they also support the refinement of the maintenance plan, with the goal of improving technical availability, plant performance, and energy efficiency.
Continuous improvement succeeds in achieving major goals, such as extending the life of the plant and equipment. Modern process and predictive maintenance methods help avoid unplanned production downtime and save valuable production time. A pillar for the growth of an industrial enterprise A well-functioning maintenance organization is one of the most important pillars for the growth of an industrial company. A reliable and cost-effective development process creates a strong platform for the company to develop in its market field.
With Jopi, reporting various fixes and tracking their fixes is easy, 'transparent' and predictable. Jopi takes care of all maintenance and service work from fault recording to the work order to the work report and the invoice appendix with hourly specifications and item lists.

Jopi is the most versatile and handy application on the market. It works in several languages, in addition to Finnish, English and Swedish. Other languages ​​such as Russian, Estonian, German, French and Spanish are coming.

The thing to be fixed, the so-called fault logging, can be reported in a few seconds with a few selections without an image or with an image clarifying the fault.

Jopi works browser-based on almost any device with a web browser, such as a tablet or phone in the field.


There are currently versions of Jopi for property maintenance and boat maintenance. A version to facilitate the monitoring and communication of site installation work is coming.
Jopi Process map show benefit of application
The process map reflects the different functions of the Jopi SaaS web application. Light boxes are data that needs to be pre-loaded into the application. They are documentaries and, over time, also static information about devices. This process description is made with the property settings and the application can be set with other e.g. factory settings, etc. .The blue boxes in the image describe the actual repair process and the upper boxes are other information related to the repair process. With the Jopi SaaS web application, it is possible to influence the financial events of a factory or other ROI and TCO in a mitigating and sustainable way.
Jopi a SaaS web application, Light boxes need transfer documents to an experienced worker who knows their field in depth. This also allows tacit knowledge to be transferred to the field for the use of an inexperienced installer, and knowledge of just the right spare part for a particular device is critical information, especially for devices that are long distances away. Today, the slightest discrepancy in spare parts prevents the installation and repair process from succeeding quickly and saving money. Everyone remembers the Apollo 13 spare part problem that happened at the distance of impossible journeys.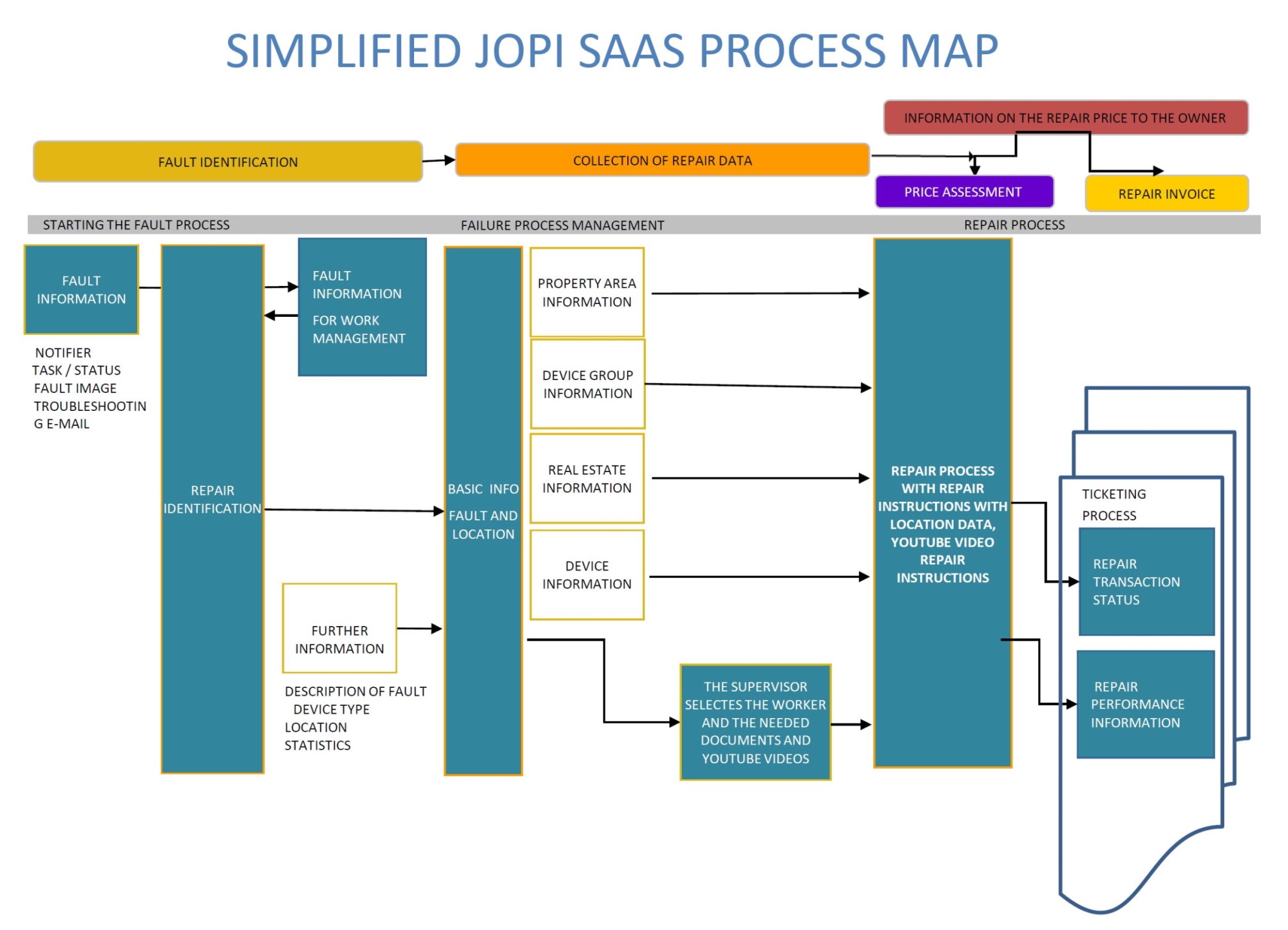 Jopi a SaaS application has two operational roles for a small and medium business
The 'Admin' = has a supervisor who can make general configurations, such as create users and change their information (insert, update and delete)
property type and property information (insert, update and delete)
device types and devices (insert, update and delete)
document types and documents (insert, update and delete)
change settings (insert and update) make a fault log (insert, update and delete)
make a fault log job (insert, update and delete) change the status, priority, documents attached to the work order, allocate people, set the person in charge of the work order
accept hourly entries and change them accept item entries and change them
'Normal' = Installer or employee who can make a fault log (insert, update and delete)see the work order made for the fault logging if he is the person responsible for it or the author allocated to it (resource) enter their own hours enter their own titles The fault logger (a person or ID that is not 'Admin' or 'Normal') can only make fault logs.
If he enters his name and email when making a fault log, he will receive a status message about the progress of the fault rectification, if the foreman has approved it (= made a work order for it).
See this
https://www.youtube.com/watch?v=2_1FPdUeG9g

Now you too can adjust the trabat to a marketable condition. This is Jopi idea. Own information even 30 years guarantee how to install or maintain the equipment. There are a lot of industrial equipment that is over 30 years old and in production so know-how and documentation can be transferred with the help of our application
Excerpt from research on equipment used in industry.
It can be seen from this figure that, for example, the lifespan of computers in industry is about three years and events such as machine crashes occur occasionally and the average lifespan of an industrial machine is somewhere between 30 years and 60 years. To date, the installation and repair documents have been in paper form and tacit knowledge on the part of the installers.
The advantage is when the installation documents are in the Jopi SaaS web service so the risk of data loss is much lower even forever.
IDENTIFICATION OF TACIT KNOWLEDGE
The meaning of tacit knowledge and its identification is somewhat vague, for if its significance is not known and has not been recognized it is difficult to share, develop or take advantage of.
The problem is often that employees do not recognize or recognize their own knowledge. The employee must also distinguish from theoretical knowledge what is experiential knowledge. Experiential knowledge needs to be made visible and shared also to others, to the extent that it can be concretely recorded. It is not appropriate to open the whole path of experience. When tacit knowledge is brought to light, management needs to think about what it is tacit information that is relevant and critical to the organization's operations. Critical tacit knowledge is the knowledge without which an organization's operations are compromised. It is the specific skills and knowledge that the employee has. This is why it needs to be identified those areas of expertise and knowledge that are limited to one or a few people depends on. In addition, we need to think about what skills will be needed in the future.
When reviewing critical knowledge, important issues for the organization include:
• information contained in a particular profession
• who knows what
• how things are handled
• who knows best a particular job • information on the history of the company
• customer knowledge
• country business practices
• information on how the team is assembled
• how to approach the problem.
Jopi the SaaS web service helps to transfer tacit information through images, videos and collected documents in different destinations and in different countries and in every possible and impossible language. Transmitting tacit information with Jopi is not location-based and time-bound, and when produced correctly, information is available almost forever.
The organization must collect information at all times in order to be able to maintain its level of competence sufficiently high compared to competitors. Information comes from inside and outside the organization. Not only can the information collected be stored, but it must also be processed, either in people's minds or in information systems.
What makes it particularly critical is if the know-how has been relying on only one person and the skills and knowledge have not been documented fade in time.
Jopi a SaaS web service reduces this tacit loss of information and the company can continue at an almost normal level once the information is easily accessed by our web service. There are many such cases where a person has performed a task in an organization that has not been identified as critical. In many cases, the documents are also old data containing information during installation that has changed such as the telecom side of the cabling change. It is difficult to find altered cable images among old cables with the help of an old documentary.
Which market is Jopi SaaS web service intended for
There were estimated to be approximately 212.98 million SMEs* worldwide in 2020, slightly fewer than in 2019 when there were 213.52 million, which was also an estimated peak for the number of SMEs in the provided time period.Small and Medium Enterprises (SMEs) play a major role in most economies, particularly in developing countries. SMEs account for the majority of businesses worldwide and are important contributors to job creation and global economic development. They represent about 90% of businesses and more than 50% of employment worldwide. Formal SMEs contribute up to 40% of national income (GDP) in emerging economies.
These numbers are significantly higher when informal SMEs are included. According to our estimates, 600 million jobs will be needed by 2030 to absorb the growing global workforce, which makes SME development a high priority for many governments around the world. In emerging markets, most formal jobs are generated by SMEs, which create 7 out of 10 jobs. However, access to finance is a key constraint to SME growth, it is the second most cited obstacle facing SMEs to grow their businesses in emerging markets and developing countries.More than half of all SME employers (56%) used technologies or web-based
software to sell to customers or to manage the business.
Top SaaS Products for Small Businesses

Bit.ai – Document Collaboration Tool.
Elink – Content Curation Tool.
Trello – Project Management Tool.
Slack – Communication SaaS Tool.
Hubspot – Sales, Marketing & CRM SaaS Software.
Buffer – Social Media Management SaaS Software.
Intercom – Customer Support SaaS Tool.
We believe that Jopi SaaS web service as a multilingual and many service cost just right for the global market.
The conflict between Russia and Ukraine will bring changes in the ICT sector to these countries.
It is mentioned in the news that, for example, 120,000 ICT professionals have left or are leaving in Russia, and large ICT giants are also leaving Russia with their platforms. The situation is complex for both ICT users and service providers. From Finland's point of view, the situation is reminiscent of 30 years ago, and these processes below are clearly coming into today's business when you can do business at all. To achieve rapid recovery and damage, SaaS is a solution to accelerate the recovery of ICT operations.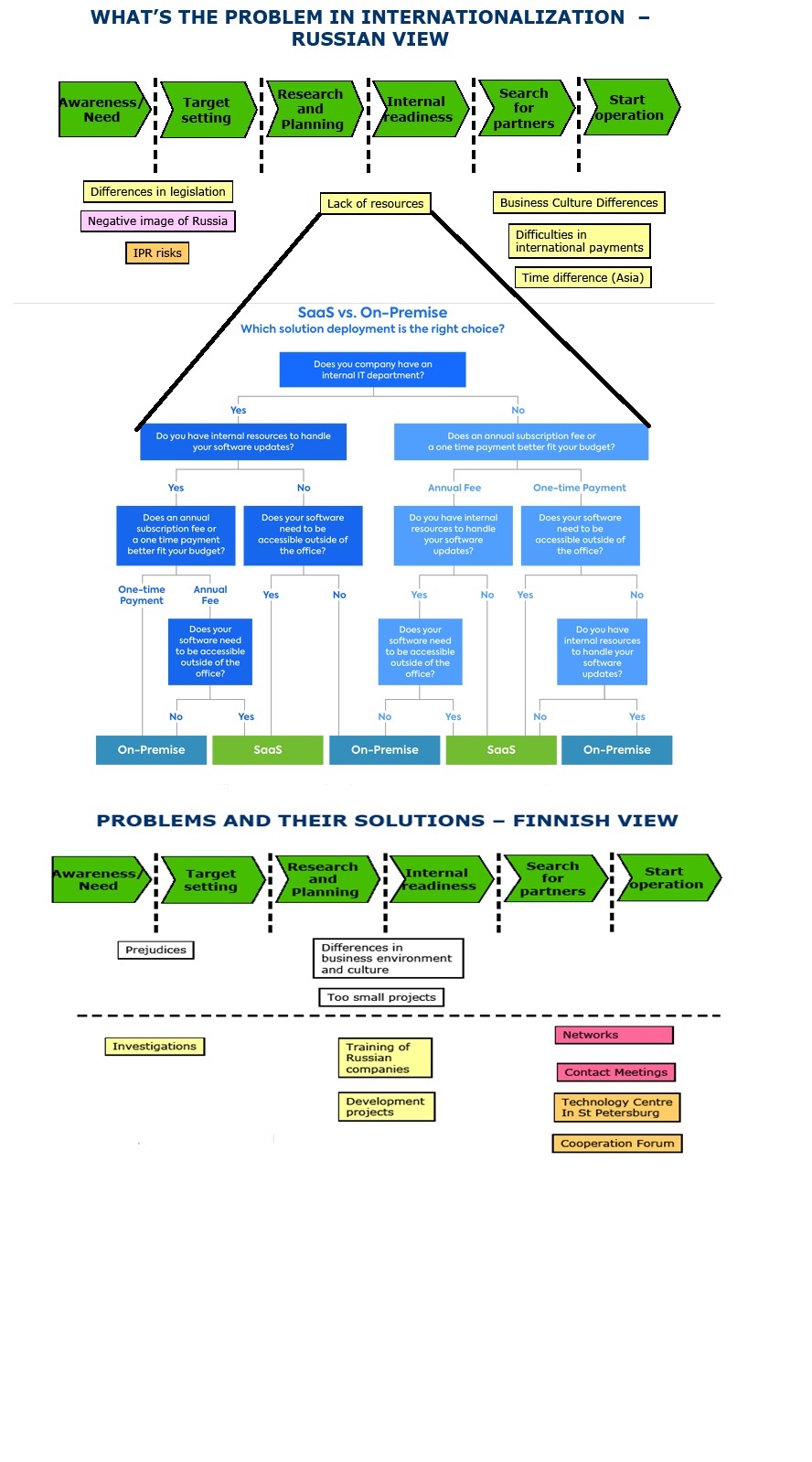 Contact us for a quote.
Tel: +358 407193637